Bagasse Based Cogeneration Power Project
Overview -
Bagasse is a by product of sugar cane that is used as fuel in boilers to produce process steam. The consumption of Bagasse depends upon the pressure at which steam is produced in boiler. Co-generation projects with higher boiler pressure results in low computation of Bagasse, resulting in increased operating days. To achieve this, certain implant measures are required to be undertaken. Conventionally boilers of 40 bar pressure are in use.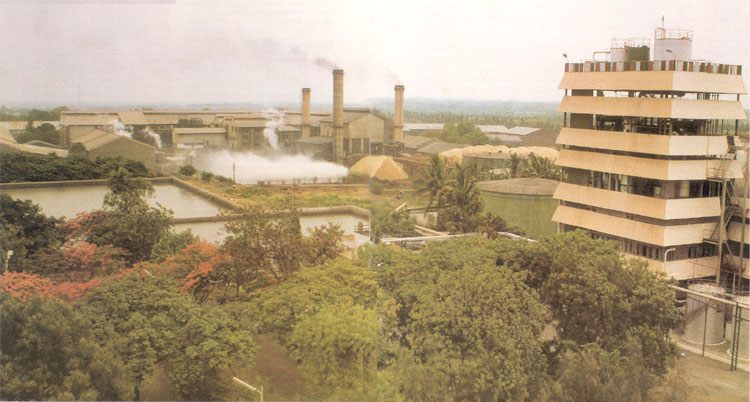 Based on the studies carried out in many sugar factories, use of high pressure boilers (above 60 bars) makes such power projects highly profitable. National level potential of power generation through Bagasse co-generation as per MNRE, GoI study is about 3500 MW, whereas the potential in Maharashtra is 1250 MW. The promotion of Bagasse co-generation in sugar mills for surplus power generation is one of the important schemes of MEDA. There are nearly 202 sugar factories registered in Maharashtra. For encouraging sugar factories in developing the Cogeneration power project an attractive policy has been declared by GoM vide G.R. dated 14-10-2008. The details of the state policy could be seen on www.mahaurja.com. For giving greater impetus to RE sector the GoM established the Urjankur Nidhi Trust in the year 2006 with financial contribution of Rs. 418 Crores. The implementation of this policy started with the formation two SPVs for the establishment of co-gen projects namely – a) Urjankur Shri. Datta Power Company Ltd., (36 MW) and b) Urjankur Shri. Tatyasaheb Kore Warana Power Company Ltd., (44 MW).
The Maharashtra Electricity Regulatory Commission (MERC) has been declaring attractive tariff for cogeneration power projects from time to time. This has resulted in having 102 cogeneration power projects totaling 1775.85 MW commissioned in the state.
The prevailing regulated tariff declared by the commission on 29th April, 2016 for Cogeneration projects is Rs. 6.73 per unit For details, visit website: www.mercindia.org  
The Ministry of New & Renewable Energy (MNRE) GoI, has been supporting the Cogeneration power projects by giving back ended subsidy. The 50 % subsidy will be released for sugar factories developing Cogeneration power projects in cooperative sector / public sector /government under taking/ SPV company (Urja Ankur Trust) through BOOT model after issuance of purchase orders for larger equipments like boiler, turbine etc. The remaining 50 % subsidy could be availed after commissioning of the project and demonstrating its continuous operation for 90 days (3 months) from which 72 hours the plant should run with 80% PLF. For private sector one time subsidy will be released after commissioning of project after assessment of performance of the plant. The performance of the plant in both the above cases will be assessed through National Productivity Council (NPC) & then financial assistance will be released. In cogen plant where boiler modification is proposed financial assistance to certain extent will be given by MNRE, GoI. The details of the policy could be seen on www.mnre.gov.in 
Further, to enhance attractiveness of investment in this sector the Ministry of Finance is extending exemption on excise duty & levying concessional custom duty over equipments and machinery purchased by the investors for developing a new cogeneration power projects.
The details about commissioned Cogeneration power projects in tabulated form as below.
NOTICE ALONGWITH LIST OF INCOMPLETE PROPOSALS, NOT SCRUTINIZED PROPOSALS FOR INFRASTRUCTURE CLEARANCE AND PENDING PROPOSALS FOR GRID CONNECTIVITY
HEARING NOTICE FOR BAGASSE BASED CO-GENERATION PROJECTS PROPOSALS FOR INFRASTRUCTURE CLEARANCE UNDER RE POLICY 2015.
HEARING NOTICE ALONGWITH LISTS OF COMPLETE AND INCOMPLETE PROPOSALS,  AFTER HEARING ON 13-10-2017 FOR INFRASTRUCTURE CLEARANCE  .
Final Priority List 26-10-2017 for Final Issue of Infrastructure Clearance For Bagasse based Cogen Projects after hearing on 23-10-2017
You can also view this in Bagasse and Biomass